Diáspora, acrylic, pencil and paper on canvas
Energia, acrylic and watercolor on canvas
Song for Generations, acrylic on canvas
Resilience, acrylic on paper
Ho Soon Son, acrylic on paper and wood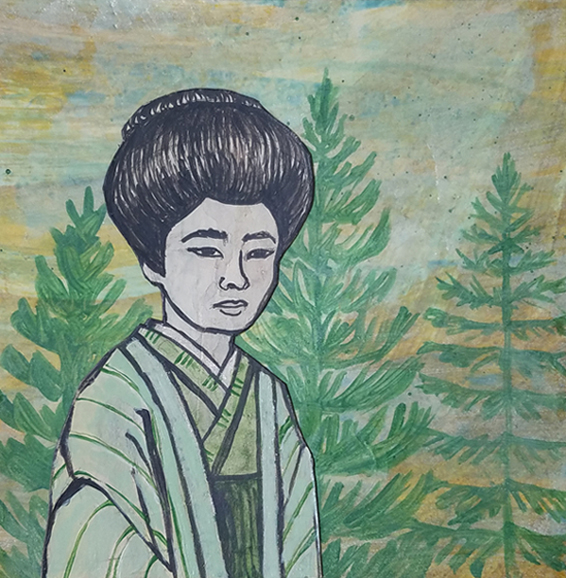 Pine Lady, acrylic on paper
Tender, acrylic on paper
Gibson Girl, acrylic on paper
Girls Day, Boys Day, acrylic on paper
Passport, acrylic on paper
Siblings, acrylic on paper
Pastel Sisters, acrylic on paper
Hope for the Future, acrylic on paper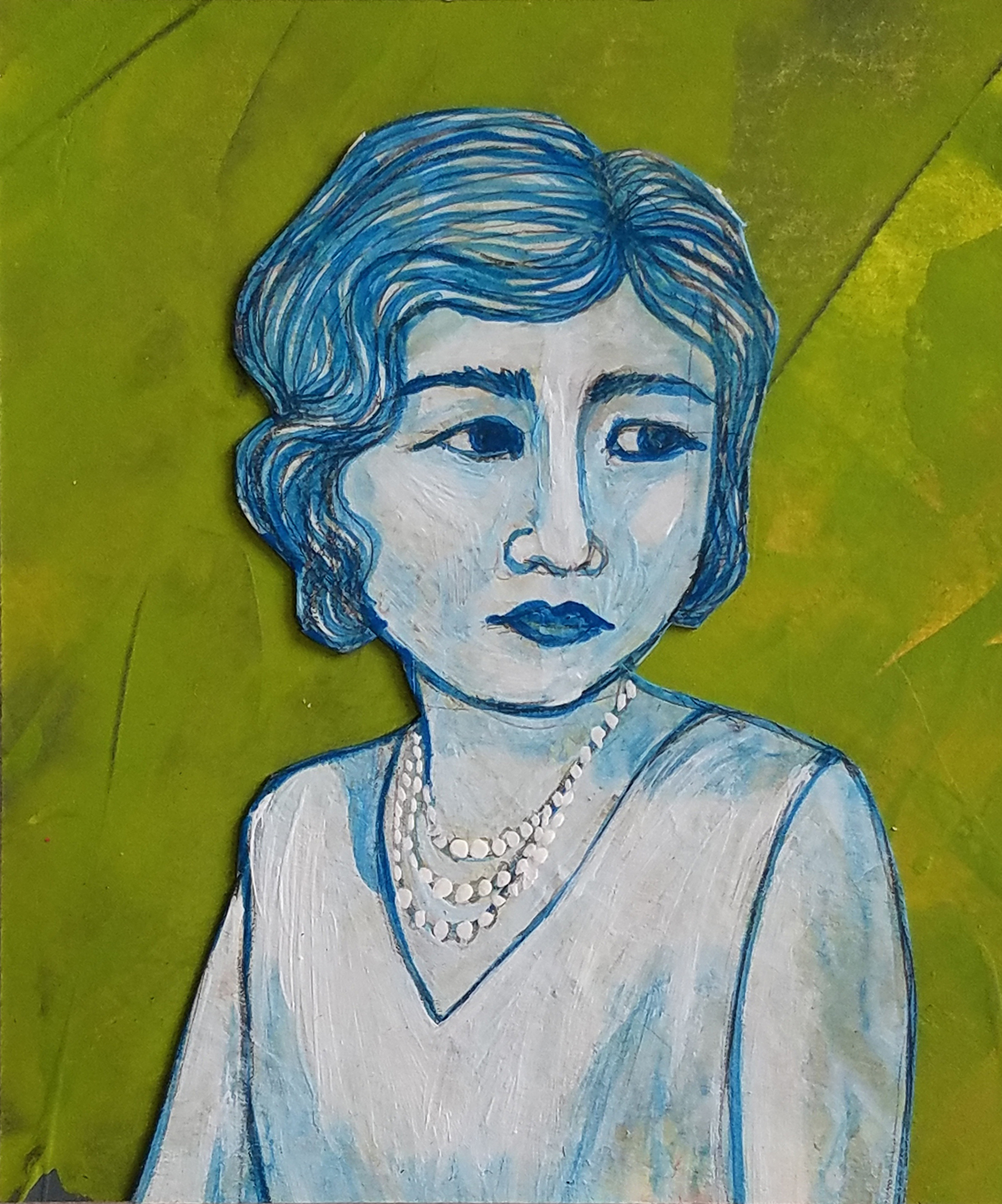 Blue Lady, acrylic on paper
You and Me Both, acrylic on paper
Bamboo Man, acrylic on paper
Stars and Stripes, acrylic on paper
Wakame fields and kimchi skies, acrylic on wood
Urashima Taro, acrylic on paper, 12 x 18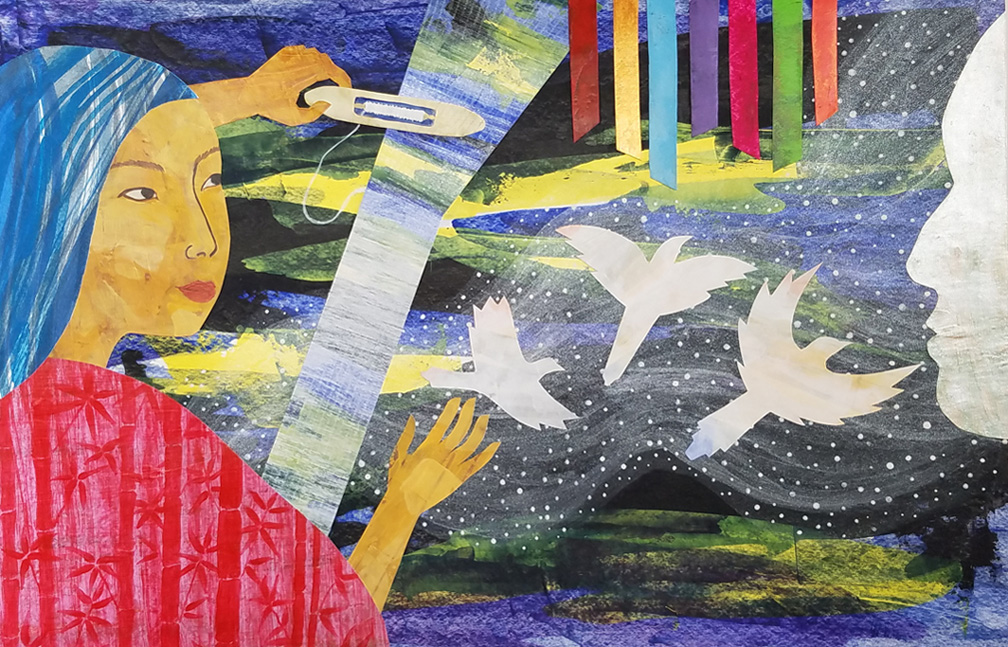 Tanabata (Evening of the Seventh), acrylic on paper, 18 x 12
Kitsune no Yomeiri (Fox Wedding), acrylic on paper, 12 x 18
Bangs, acrylic on paper, 9 x 12
Green, acrylic on paper, 9 x 12
Hush, acrylic on paper, 9 x 12
Gaze, acrylic on paper, 9 x 12
Gold, acrylic on paper, 9 x 12
Seaforms, watercolor and acrylic on canvas, 29 x 22.5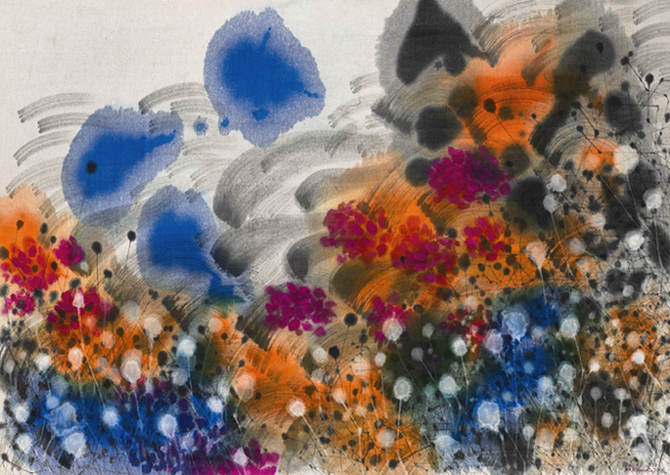 In Flux, watercolor and acrylic on canvas, 43.25 x 29.75
Calor (Heat), acrylic on paper
School Girl, acrylic on paper
School Boy, acrylic on paper
Sempre (Always), acrylic on paper
Casal (Couple), acrylic on paper
Equilíbrio (Balance), acrylic on paper
Short Grain, Long Grain, acrylic on paper
Diáspora, acrylic, pencil and paper on canvas
My great grandmother, Saki Takatsu, was born in Kajika, Japan in 1870. In January, 1927, she immigrated to Brazil on the Santos Maru ship with several of her adult children and grandchildren. She was in her mid-50s and a widow, moving with her family to a new country, sight unseen, for better opportunities. One of her sons, Mosaburo, who had a tatami business, stayed in Kajika. One of her two daughters, Kinue (my maternal grandmother), married Kametaro Kawaguchi and immigrated to Seattle.Many Japanese moved to Brazil to work on plantations. The working conditions were harsh. During World War II, Brazil declared war on Japan and Nikkei (people of Japanese descent) in Brazil experienced rampant racism – they were not allowed to gather in public spaces, or read, write or speak Japanese. Japanese schools were closed. Thousands of Nikkei were arrested, tortured and deported. Nikkei living near the coastline were forcibly removed.In this painting, Saki is shown with the port and houses in the hills of Kajika. The landscape of Brazil beckons. Saki's six children who immigrated to Brazil (Risaburo, Sanosuke, Fumie, Shizuo, Torataro and Yoshio) are illustrated as the flowers of the crown of thorns plant (Christ plant or coroa-de-cristo), representing the beauty, pain, strength and resilience of their experience. Saki also wears a camellia, representing Mosaburo, and dahlia representing Kinue.This artwork is part of my Japanese Brazilian Diaspora project that is supported, in part, by an award from @kc4culture .
Energia, acrylic and watercolor on canvas
Song for Generations, acrylic on canvas
Song for Generations, 2019, acrylic on canvas, 16' x 8'Song for Generations was on display at Bellevue City Hall for Bellwether 2019, at 10-day arts festival.The Bellevue Japanese American story is an almost invisible, but significant local history. Before World War II, there were many Japanese American farms in the downtown Bellevue area, including the site where Bellevue City Hall is currently located.These three hanging panels reference a Japanese scroll that had been sectioned – culture, tradition and identity change and fragment with progressive generations of the Japanese diaspora.The top panel references immigration, labor and survival. Two cranes fly east over the rising sun and waves of the Pacific Ocean. Japanese American farmers clear the land of trees and stumps and make fertile ground to grow produce.The middle panel symbolizes the incarceration experience: the pain, internalization, resilience and endurance of the Japanese American community. During and after WWII, many Nikkei families lost their land and faced rampant racism fed by wartime hysteria. Persons of Japanese ancestry were told to pack only what they could carry when they were forcibly removed from the West coast. Harvested strawberries fall out of an open suitcase. The Blue Star Mother's flag signifies the Japanese Americans who served in the U.S. military while their families were incarcerated. The burning house represents loss and psychological trauma.The third panel represents the legacy of the incarceration and the future of younger generations. The falling strawberries turn into children. Barbed wire forms the U.S. flag and appears in the open mouths of two Nikkei who have found their voice to speak out against injustice, past and present. A young girl gives flight to a paper crane or tsuru, a symbol of peace and hope.
Resilience, acrylic on paper
Ho Soon Son, acrylic on paper and wood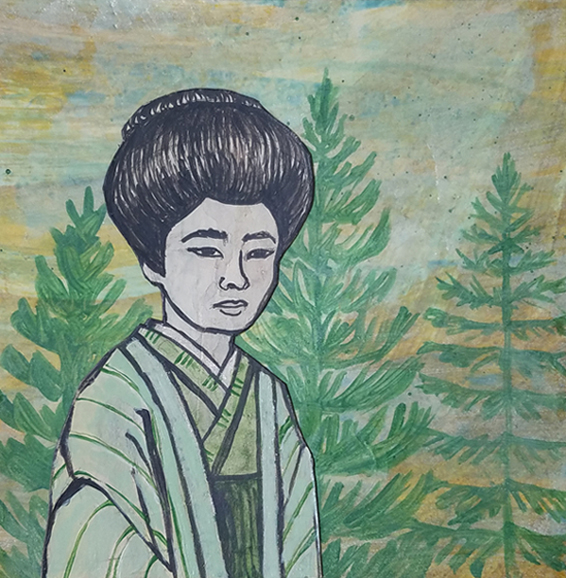 Pine Lady, acrylic on paper
Tender, acrylic on paper
Gibson Girl, acrylic on paper
Girls Day, Boys Day, acrylic on paper
Passport, acrylic on paper
Siblings, acrylic on paper
Pastel Sisters, acrylic on paper
Hope for the Future, acrylic on paper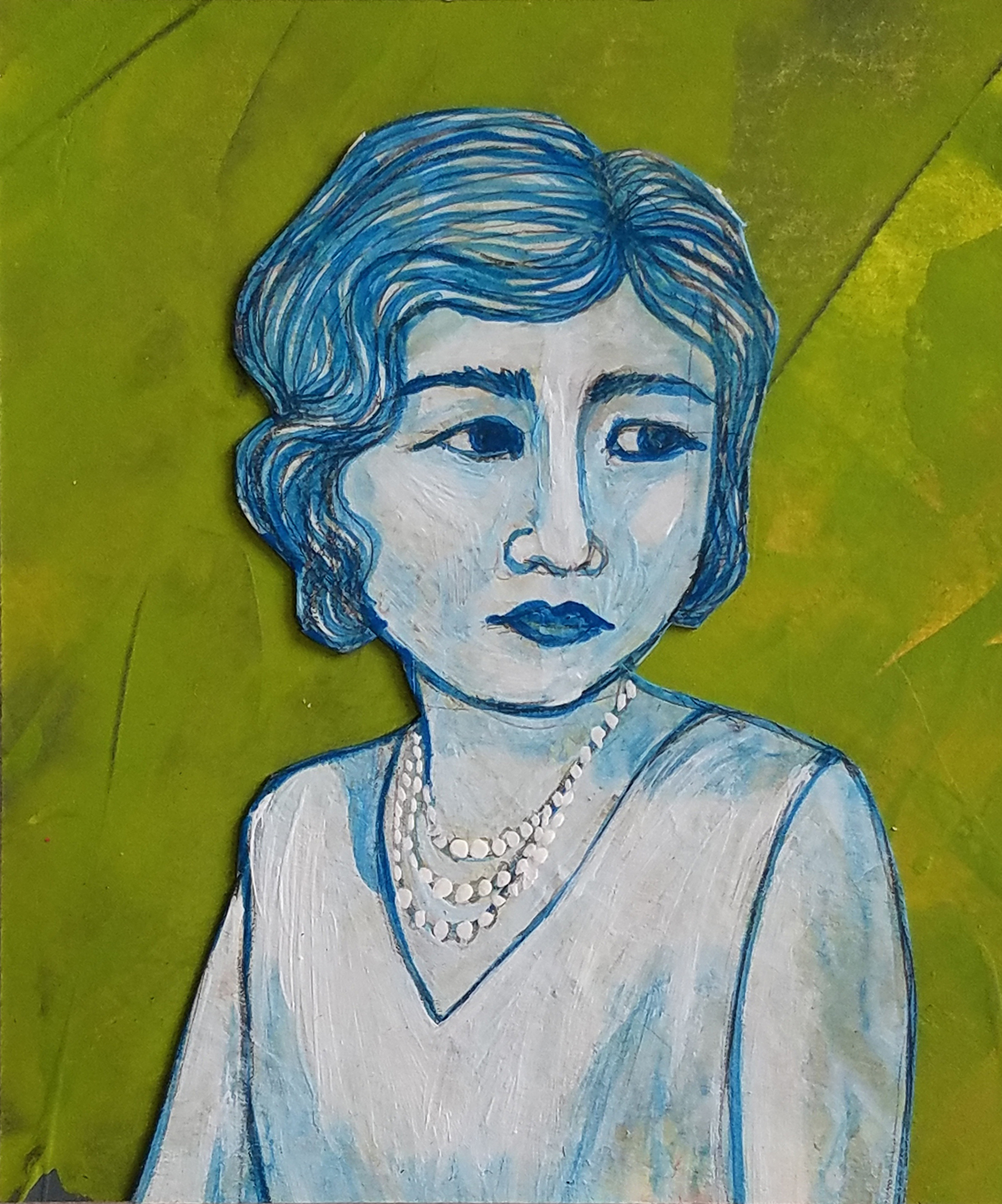 Blue Lady, acrylic on paper
You and Me Both, acrylic on paper
Bamboo Man, acrylic on paper
Stars and Stripes, acrylic on paper
Wakame fields and kimchi skies, acrylic on wood
Urashima Taro, acrylic on paper, 12 x 18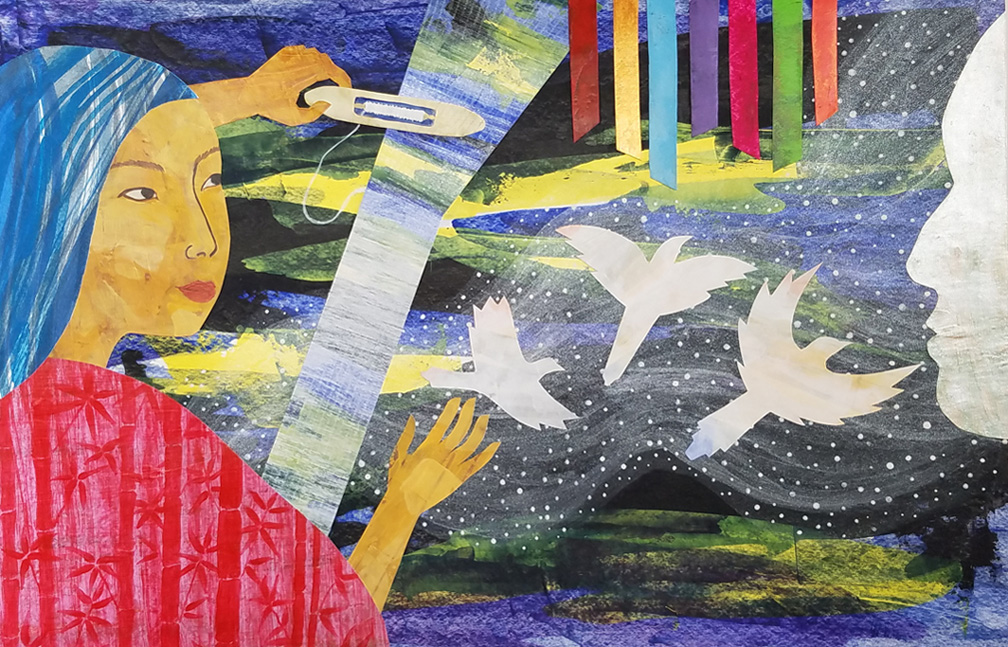 Tanabata (Evening of the Seventh), acrylic on paper, 18 x 12
The Sky King sets up his lonely daughter, the weaver princess, with a cow herder. Love blooms. The princess stops weaving. The herder lets his cows roam free all over Heaven. The Sky King is angered by the couple's neglect and separates them across the Milky Way, only allowing them to meet once a year on the seventh day of the seventh month. Magpies hear the princess crying, spread their wings and form a bridge across the Milky Way for the two to reunite.During the Tanabata Festival, wishes are written on paper strips and hung from bamboo branches to celebrate the annual reunion of star-crossed lovers.
Kitsune no Yomeiri (Fox Wedding), acrylic on paper, 12 x 18
Japanese folklore tells of Kitsune no Yomeiri, or the fox wedding, which happens when rain falls in broad daylight. These sun showers are thought to be a cover for the fox wedding.Kitsune-bi (foxfire) is witnessed at night as strings of lanterns or torches winding in a procession through the mountains – these lights are also thought to be phosphorescent fungus or oxidation of chemical phosphine from decaying plant matter. Foxfire processions are a rare sight now, attributed to deforestation.
Bangs, acrylic on paper, 9 x 12
Green, acrylic on paper, 9 x 12
Hush, acrylic on paper, 9 x 12
Gaze, acrylic on paper, 9 x 12
Gold, acrylic on paper, 9 x 12
Seaforms, watercolor and acrylic on canvas, 29 x 22.5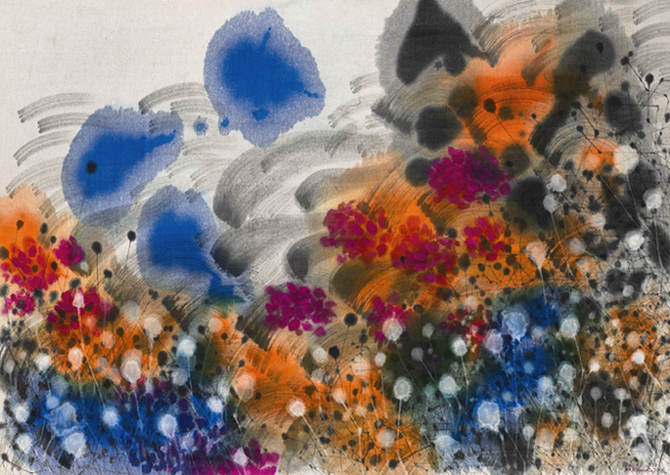 In Flux, watercolor and acrylic on canvas, 43.25 x 29.75
Calor (Heat), acrylic on paper
School Girl, acrylic on paper
School Boy, acrylic on paper
Sempre (Always), acrylic on paper
Casal (Couple), acrylic on paper
Equilíbrio (Balance), acrylic on paper
Short Grain, Long Grain, acrylic on paper
1
2
3
4
5
6
7
8
9
10
11
12
13
14
15
16
17
18
19
20
21
22
23
24
25
26
27
28
29
30
31
32
33
34
35
·
·
·
·
·
·
·
·
·
·
·
·
·
·
·
·
·
·
·
·
·
·
·
·
·
·
·
·
·
·
·
·
·
·
·